About the Research
The LASSO 2016 Crew Pay Rate Survey polled senior executives in the Event Service industry. The purpose of this survey was to better understand pay trends in the market and enable industry leaders to benchmark their own crew pay rates with those found in the industry. The data found in this report represents the national average wage rates for 12 common live event crew positions. The hourly rates listed in the analysis are based on a 10 hour day. Regional survey results are available upon request. Please contact LASSO for more information.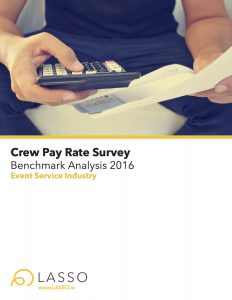 The crew positions reviewed in this report include:
Projectionist
Camera Operator
To download your copy of LASSO's 2016 Crew Pay Rate Survey Report, go here.
Related Resources: