Fun Fact: April is the month of the diamond! Did you know that diamonds not only represent love, but in other cultures are said to represent abundance, strength, and creativity? Very few industries express creativity the way the event industry does. In event production, everyone involved in the creation of "experiences" brings with them their own unique sense of creativity. Just like the various shapes and sizes of precious stones, no event is ever like the other. So we took the time to mine out a few precious gems from this industry and provide you with a list of production companies that you should definitely follow on twitter this month.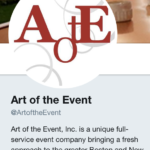 Art of the Event
Based out of Wilmington MA, just 20 miles north of Boston, Art of the Event provides professional event design and production services throughout New England. With over 25 years of experience in the event industry, their full service company has an in-house team of designers, producers, artisans, and more, to ensure that each production is handled with proficiency and detail. No only is their twitter page filled with images of the projects they've worked on, but they announce future productions there as well. Also, be on the lookout for their "Tuesday Tips" – they're very helpful!
Czarnowski
Czarnowski is a full service exhibit and event marketing company that produces brand experiences for some of the world's largest organizations. They have designed exhibits for heavy-hitters like Coca Cola, Grainger, Phillips, Panasonic and many more. Check out their twitter page to see their work for yourself. They are constantly showcasing their most interesting and unique projects. Also, be sure to keep track of their "#exhibittrends" to learn more about the exhibit and event marketing industry.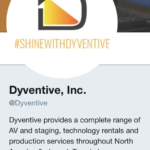 Dyventive
The Dyventive team helps organizations across the spectrum with their technological event and planning needs, from AV staging to visual production and more. Their goal is to always ensure that each production goes well and that their attendees have an experience of a lifetime. Located in the "City of Brotherly Love" aka Philadelphia, Dyventive implements thousands of projects for a variety of industries such as pharmaceutical, financial, technology, event management, and more. Dyventive's President of Sales, Frank Zink, recently wrote an article titled Events Made Easy Quintessential Checklist: Planning Successful Event – check it out. Also, follow Dyventive on twitter to get more great event industry tips.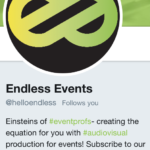 Endless Events
It all began when Will Curran (founder), picked up DJing as a hobby. However, as his love for event production grew, so did the need to scale his company. Will decided to call in reinforcements and hired a team, or rather "Einsteins of Events", to help. With services such as lighting, sound, staging, and video production, Endless Events strives to bring these components together, which creates an equation for truly remarkable events. Their twitter page focuses on content to help event production companies build better businesses, so if you're in need of fresh ideas, then add them to you spring social media collection. Their sense of humor and love of Einstein are reasons enough to follow them on twitter, but be sure to check out their latest blog discussing important topics such as Event Safety/Cyber Security & Event Labor Costing and how LASSO's 2018 Position Bill Rate Report can help you better understand how to charge your clients for event labor.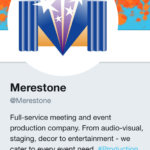 Merestone
Merestone is a full service production company that specializes in creating experiences that help global brands educate, communicate, inspire, and elevate their clients, employees, and vendors. From corporate events and conferences to business meetings and more, Merestone is a single source production company. They have produced live and interactive events for hundreds of well known brands such as Revlon, the Superbowl, and Tostitos, just to name a few. If you follow their twitter profile, you'll see that they also prioritize community engagement and giving back. Merestone was the main event sponsor for Make A Wish Arizona at the 2018 Wish Ball, where 100% of the proceeds went straight to helping grant wishes for children with life-threatening medical conditions.
We hope you enjoyed this month's list of production companies to follow on Twitter! Have suggestions for next month? Send us a note!