As you might have already seen, we recently launched the results of our first annual event industry workforce management compliance survey. As part of this survey, one of the questions we asked but have not yet discussed revolves around the ability to contest unemployment claims. The results are below: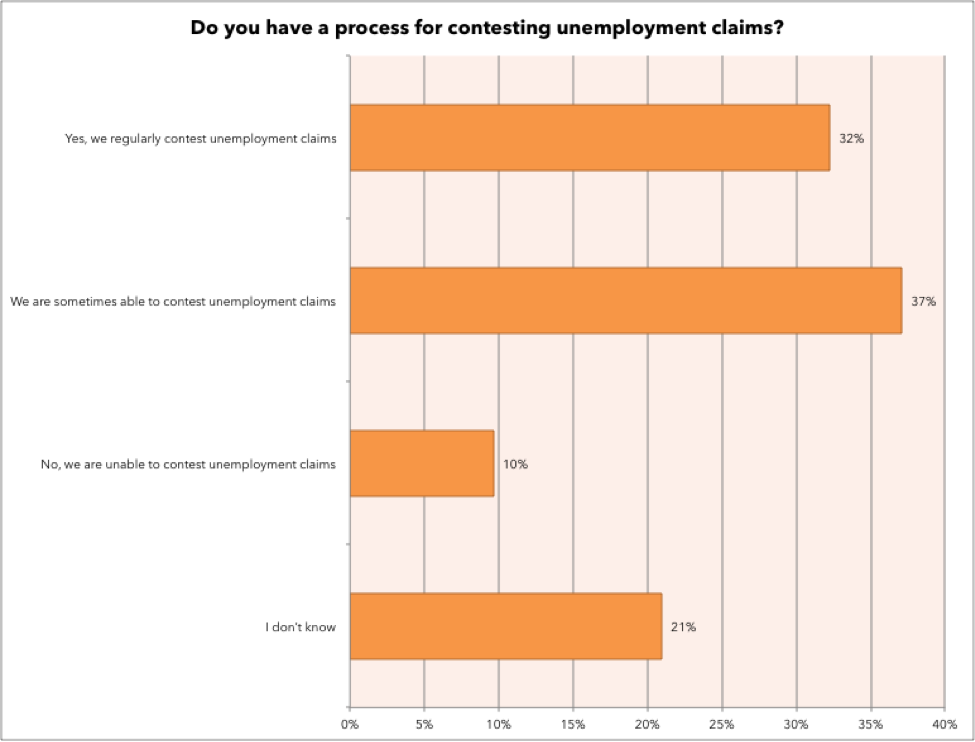 While 32% of respondents seem to have a good handle and a means for contesting unemployment claims, the majority of companies are able to either only contest some of their claims or are unable to contest them at all. It is clear from these results that unemployment in workforce management processes is just not as simple or clear-cut as it may look.
Unemployment rules not only vary from state to state, but to further complicate the matter, the fundamental argument surrounding unemployment is that to qualify, an employee must have lost their job through no fault of their own. This concept is certainly open to interpretation – and yes, even fraud. However, figuring out how to best contest unemployment claims has its benefits. For example, unemployment claims eat away at your profits – increasing your company's tax rate and causing additional charges to your unemployment insurance. It is in your best interest to have a process around this when managing your workforce.
So, what is the secret to contesting unemployment claims?
Do your research and know the rules (by state) as to who is eligible for unemployment. Also, if an employee has filed a claim, know that they must be considered "unemployed" under the law, which basically means they are actively looking for work and willing to accept work if it comes their way.
Make sure you are hiring the RIGHT people in the first place. And have systems in place for not only tracking the performance of your crew, but also have a good feedback loop to keep everyone on the same page when it comes to assessing your people.
Document the heck out of everything. From your employee policies, to providing them with direct feedback or warnings, it is important to have records of the communications you have with your crew. Without this, your company will have little ground to stand on when contesting an unemployment claim, so make sure you have a "paper trail" (preferably an automated one).
Having good workforce management processes and robust tools in place will drastically reduce the hours and hours spent looking for the data needed to contest unemployment claims and ultimately set you up for success. What tips do you have for this? What are some of your biggest roadblocks? We look forward to hearing your thoughts!