When your crew shows up on an event site, it is important that every person is informed of the most recent event details and is ready to get the job done. Unfortunately there are a lot of times, as a live event production professional, that one of your supervisors (or you) shows up to an event site and doesn't even know what each crew member looks like.
In this fast-paced industry, your managers need a quick, mobile solution that allows them to figure out who everyone is and what their roles are, right from the event site. Event workforce management software from LASSO gives you the tools needed to ensure that everyone on-site is on the same page enabling you to continue delivering the high-quality events your clients expect.
On-Site Crew Coordination & Communication
Simply put, LASSO makes it easy to coordinate and communicate with your crew. Everything from scheduling them, to tracking time on the event site, to getting your crew paid. Additionally, through the LASSO mobile app, your supervisors are able to see crew photos, contact information, and past performance ratings all from one easy-to-use application. Knowing who is on your team, what their strengths are, and how they can be best put to use helps to support the overall event success.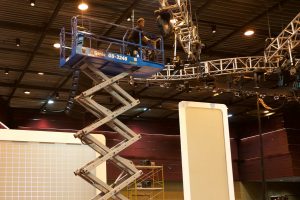 LASSO also helps event service professionals communicate with crew members directly through the mobile app. When event details change and messages need to be sent out to the crew, you no longer need to spend your time and energy placing individual phone calls or hoping that your emails are read. Having a confirmation that your crew received the most up-to-date information is important.
Now you can quickly and easily send notices through the app so that everyone is informed at all times.
On-Site Time Tracking Streamlines Traditionally Manual Processes
Another major benefit of working with LASSO is that the solution streamlines existing manual processes, which saves you both time and money. You will no longer need to rely on paper time sheets and the honor system when tracking the actual hours your crew has worked. This helps eliminate tedious administrative tasks and improves accuracy and efficiency.
LASSO Time enables you to flawlessly track the hours your crew worked in an easy, efficient, and mobile way. Crew supervisors at the venue even have the option to conveniently punch workers in and out individually or all at once with LASSO Time. This feature allows your team to know exactly who was at the event and for how long. As a result, you no longer need to await piles of paper timesheets that can bog down the process as you work to get everyone paid. Your crew gets paid faster, and your clients get invoiced faster, which leads to a happy company and a happy crew.
Learn more about LASSO and the features of our event workforce management software by requesting a demo.