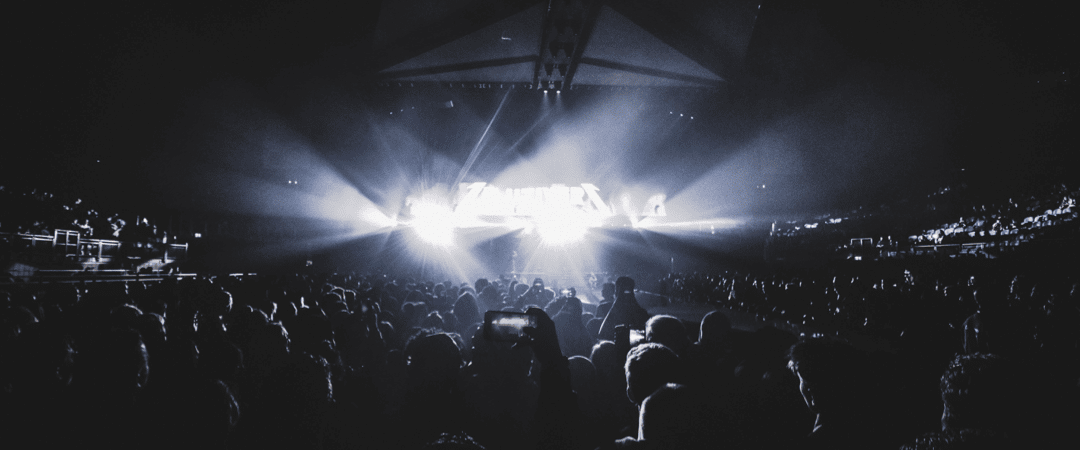 The Ultimate Guide to Event Staff Hiring
When you're recruiting the best event team, you need to make sure your event staff hiring & production crew recruiting strategy is bulletproof. Here's how it's done.
Event staff hiring is not for the faint of heart. It's not as easy as asking "How do I hire event staff?" when you have a thousand moving pieces to coordinate. 
There is good news, though. With the right team, the right tools, and the right advice (below!), you can turn your event staff hiring process into a well-oiled machine.
What is "event staffing"?
Before we dive in, it's important to define our terminology.
You might think of live event staff as every single person who works for your live event, but that's not exactly how "event staff" is defined by people who actually work in the live events industry.
There are two distinct "sets" of talent you may need to pull off the perfect event. 
Your event staff
Your production crew
"Event staff" usually refers to the people who work at the "front of the house", for example, security staff, ticket/bag checkers, etc. 
"Production crew" are those folks who most often work backstage and are key for orchestrating an event's audio visual aspects (also known as "AV"), and include such positions as audio, video, and lighting engineers (sometimes called "AV techs"), stagehands, breakout operators, etc. 
Both sets of live event professionals are necessary, depending on what type of show you are planning. For example, a superstar musician on a national tour will need a large crew of both event staff and production professionals in order to put on their shows. A smaller corporate event or even an event like a wedding, for example, may not require event staff, but may need production crew to make sure everyone's mic'd properly or assist with live streaming a virtual version. 
For the purposes of this guide, we're talking about both event staff and production crew, but where we need to specify differences between the two, you'll see us refer to either "event staff" or "production crew". 
How to hire event staff & production crew: Put the right internal team in place
When hiring event staff, you need more than warm bodies.You need live event professionals. But how do you assess a candidate to understand if they'd be a good fit for the job? The key is to put together an internal team with labor expertise. 
You'll want to find the right labor coordinator(s), HR professional(s), or operations manager(s) who have enough experience in the live events industry to be able to determine whether a given candidate has the necessary skills to fill an event staff or production crew position.
tInternal expertise is helpful for sorting out candidates who are good fits from those who are not. Great internal experts also signal to potential AV talent, and other live event professionals, that your company and operations are legitimate and competent. This can help encourage talent to work with you. 
Remember, it's not just about identifying the best AV and event staff talent.It's also about winning them over, treating them well, and putting them in a position to succeed so that they want to keep working with you, for this event and beyond.
How (and when) to hire event staff & production crew: Give yourself and your talent enough lead time
Recruiting talent, whether event staff or production crew, takes a lot of time. This is especially true if you are recruiting remotely for an event in a city where you may not have a large network. The recruiting process can literally take months.
Pro-tip #1: Leverage online and offline networks
The benefit of hiring live event experts is that they may have pre existing networks to tap into for recruitment of your event. Although they may only know a few live event professionals in a given location, they can utilize those local connections to recruit an event team. 
Both online and offline networks can add value for hiring event staff and production crew. While you may have luck searching through LinkedIn connections or Facebook groups, sometimes you can accomplish more by picking up the phone or grabbing coffee with an industry contact to recruit the event team you need for the perfect production.

Pro-tip #2: Respect your event staff & production crew's time
One common complaint you'll hear from live event professionals is the unpredictability of the liv​​e events industry. Events may be canceled, last-minute changes and requests are commonplace, and constantly dealing with surprises makes it difficult for event staff and production crew to protect their personal time. When hiring event staff and AV talent, there are specific things you can do to mitigate this issue:
Communicate clearly and transparently with your clients about how much time is required to recruit the event team

Extend offers to event staff and production crew with plenty of lead time

Communicate event details to your event staff and production crew well in advance

Read the full infographic here
3 ways to respect and protect your event staff's time
Events can be chaotic, but they don't have to be. You and your internal team need to shield your event staff and production crew from that chaos. The most important first step to that is setting clear expectations with your client. All of us have been on the clients' side in one context or another – it's understandable that they may not understand the industry, how much time goes into this or that task, or what may or may not be possible based on time and budget limitations. But it's your job to proactively communicate clearly what will and will not be possible. 
Client education can take time and patience. But if you don't take the necessary steps to build that foundation of trust, it will be difficult to do your job.This is also true for your event staff and production crew to do their jobs.
The best event staff and production crews may be booked out for weeks, if not months. This is especially true in environments like the

post-COVID labor shortage

. The closer the event date, the harder it will be to hire the event staff and AV talent you need. 
Staffing your event crew with lots of lead time is only one piece of the puzzle. You'll also need to make sure that they have the event details they need in order to properly prepare. That could mean anything as simple as directions on where to park, to something as complicated as what gear to expect on site so your audio and lighting engineers can come prepared to do their jobs successfully.
You can send emails, text messages and make phone calls – or you can communicate to your entire event staff and production crew en masse with LASSO's communication features. From one screen within the platform, you can send text messages, emails, or app notifications to everyone on your roster. 
You can also pre-write and schedule out these communications to be sent at a specified time. You can even look to see who read your messages and when they opened them to be sure that your crew got the news they needed. (Schedule a demo to see how it works.)  
How to hire event staff & production crew: Get the paperwork you need to be compliant
Do NOT skimp on compliance. The live events industry has long relied on an army of freelancers to recruit our event teams. But hiring event staff these days requires more careful attention to labor law, especially with regulations like California's AB5. 
It's not just California. Even though that is a major market for the events and entertainment industry, AB5 is just one regulation that shows how the wind is blowing, and you don't want to be caught overlooking compliance when labor law enforcement shows up. 
The costs of either accidentally or even intentionally misclassifying your workforce could be devastating to your business. Those cases that have been prosecuted to date have resulted in numerous seven-figure worker misclassification settlements, but even larger settlements – many exceeding $10 million – have been reached in lawsuits brought by workers themselves. 
With the technology and tools available today, there's really no reason to be filling out paperwork last-minute on a job site. With tools like LASSO Signature, event companies can send their event staff and production crew their compliance paperwork electronically. Everyone on your roster can complete, review, and sign documents from their phones, and your internal teams can safely store that paperwork within the LASSO system for easy referencing any time it's necessary.
How to pay your event staff & production crew
For a start, pay your crew on time. Nobody – no AV freelancer, no security guard, not you, not me – likes to fight to get paid. But that's the unfortunate reality for many freelancers in the live events business – waiting 30, 60, 90 days for a paycheck as they send repeat emails pleading to see their invoices processed.
Hopefully this is the obvious part. But we admit that it's easier said than done. There are a few important steps to take to make sure you're able to accomplish this and more.
Quote the right price to your client
It's a deadly sin of event staffing: Don't sell yourself – and your event staff – short just to get the gig.
This is where all your payroll problems could start. In fact, it is where they most often do. As an industry, the onus is on us to do better in our conversations with clients. Regardless of the industry you work in, every client wants more for less. There are ways to be more cost-effective, but underquoting your client and being forced to skimp on pay rates is not one of them. Every event is only as good as the people who make it happen, so you need to make sure you've got the budget for the best talent in order to make your event a success.
Know your labor costs before you hire event staff & production crew
It's way too easy – not to mention misleading – to crew your event based on pay rates. But pay rates are not good predictors of total labor costs. What else can impact your bottom line?
Overtime

Market-specific labor laws

Travel costs

Per diems
Once every complex pay rule and extenuating circumstance is taken into account, it's not unusual to see someone with a lower pay rate costing you more than someone with a higher pay rate.
With LASSO Scheduling, you have visibility into your labor costs with estimates based on the full picture, not just pay rates. That way, you can make the most informed decision as to whom you should extend a job opportunity. (Schedule a demo to see how it works.)  
Use an automated, integrated payroll solution
Disconnected systems, or worse, spreadsheets that rely on manual entry and user knowledge of complex pay rules and tax requirements, will lead to errors that can lead to costly lawsuits, among many unfortunate consequences. At the very least, you are likely to find yourself in a position in which payroll processes are slow enough to anger and alienate your event staff and production crew – which could be enough to cripple your reputation and business.
Don't leave things to chance when the technology is already available and cost-effective. LASSO's integrated payroll solution uses your custom crewing and time-tracking data to automate a flawless payroll process every time. (Schedule a demo to see how it works.)  
Didn't find the answers you were looking for in this guide? Check out our FAQs for more info.
How much do event staff make?
Event staff salaries vary widely depending on position and market. Lower end event staff may make close to minimum wage, while salaries for production crew may fall in the range of $30-80 in hourly wages, and veteran techs may make more than $100 an hour.  
Our annual crew pay rate report provides median wages based on position and geographic region so you can make a more educated guess on competitive and fair pay rates.
What is the role of event staff?
Big events like the Superbowl or Coachella require event staff to check tickets and bags or maintain audience safety. They also require huge teams of production and broadcast crew to orchestrate the lighting and sound for a show, and create an engaging experience for viewers watching from home.
The kind of event staff and production crew required varies widely depending on the kind of event you are producing. For example, while the Superbowl may require hundreds of security guards alone, a wedding of 150 guests may only require an event staff of 30 event professionals total. Some examples of event staff and production roles include:
Ticket and bag checkers

Security guards/Crowd control

Parking assistants

Caterers

Decorators & florists

Camera operators

General AV techs

Lighting designers

Audio engineers
As you can see, event staff and production crew roles can vary tremendously and require a broad range of different skill sets. 
How do you lead an event team?
Transparency and proactive communication is key to leading an event team. While it's helpful to appoint a crew chief or supervisor with expertise in the jobs required to produce your event, a labor coordinator does not need to be an expert in lighting or audio to lead an event team.
What's most important is that a labor coordinator provides all the information the live event professionals need in order to do their jobs successfully. That means proactively communicating venue and gear specifications, client requests, or any last-minute changes to plan. The labor coordinator should also proactively communicate with the client to make sure that expectations are managed and met. 
What is an event manager's role?
In order to effectively manage an event, a good event manager hires the best people. Event production is complicated and requires a huge team of professionals. Empowering an experienced event team allows a good event manager to focus on the big picture and support the client throughout the production process.
Every event is different. Some may require an event manager to wade more into the weeds of event production if there are issues such as malfunctioning or missing equipment, no-show or understaffing, or any other of the number of things that can go wrong in live event production. 
Ideally, though, event managers can put a team in place that they trust. With the best event staff and production professionals working with them, the role of an event manager becomes more strategic. 
They are able to anticipate client needs and requests to both manage expectations and surprise and delight the client when possible. 

They're able to create working conditions for their event team that creates a great work environment. 
In the end, a great event manager produces events in a way that not only leads to a great event, but also makes their clients and their event staff and production crew want to work with them time and time again.

Blog Categories
Infographic Categories
Video Categories