Incredible Event & Entertainment Companies
Giving Back & Doing Good
Over the last few months, while we have experienced some of the hardest times of our lives, we've also seen our industry come together in encouraging and heartfelt ways. We've loved hearing the countless stories of companies being able to pivot what's left of their business in order to give back to their communities.
In an effort to highlight those businesses who are giving back to their community or aiding in relief efforts, we've started a new series! Check out these amazing companies & stories below: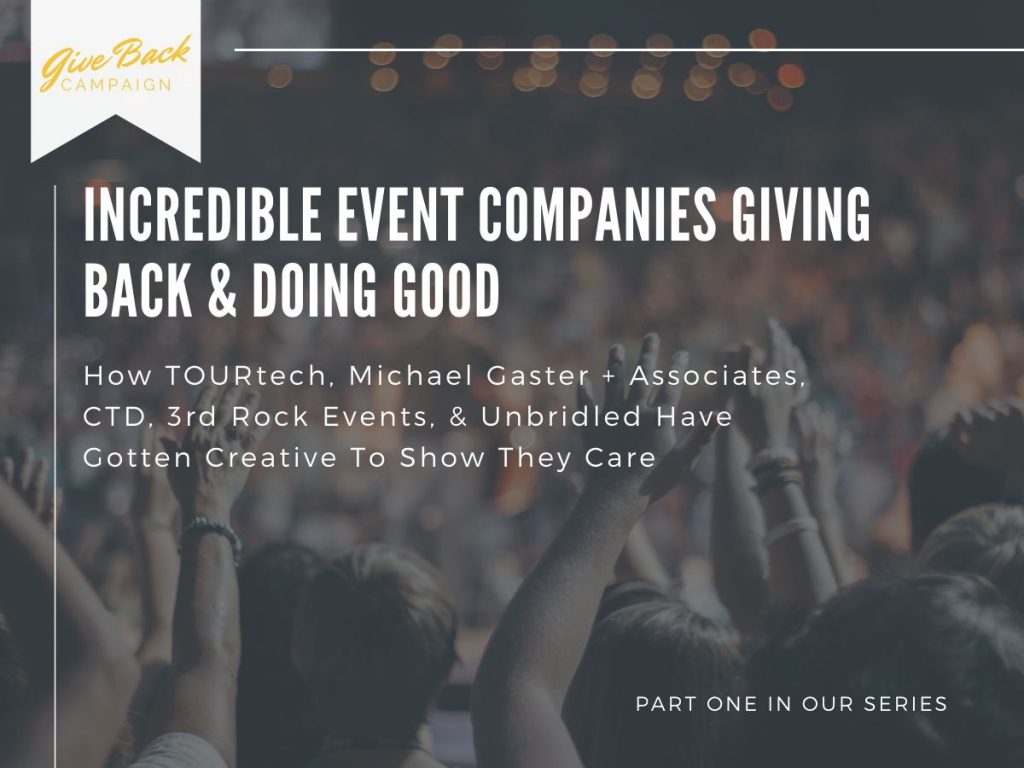 How TOURtech, Michael Gaster + Associates, CTD, 3rd Rock Events, & Unbridled Have Gotten Creative To Show They Care
WiFi hotspots to people who needed it most. Quarantine concerts to raise money for performers. Finding another way to put money in employee's pockets. Live streaming a children's festival. $200,000 in donations dedicated to helping individuals who have become unemployed. These are the ways they're giving back.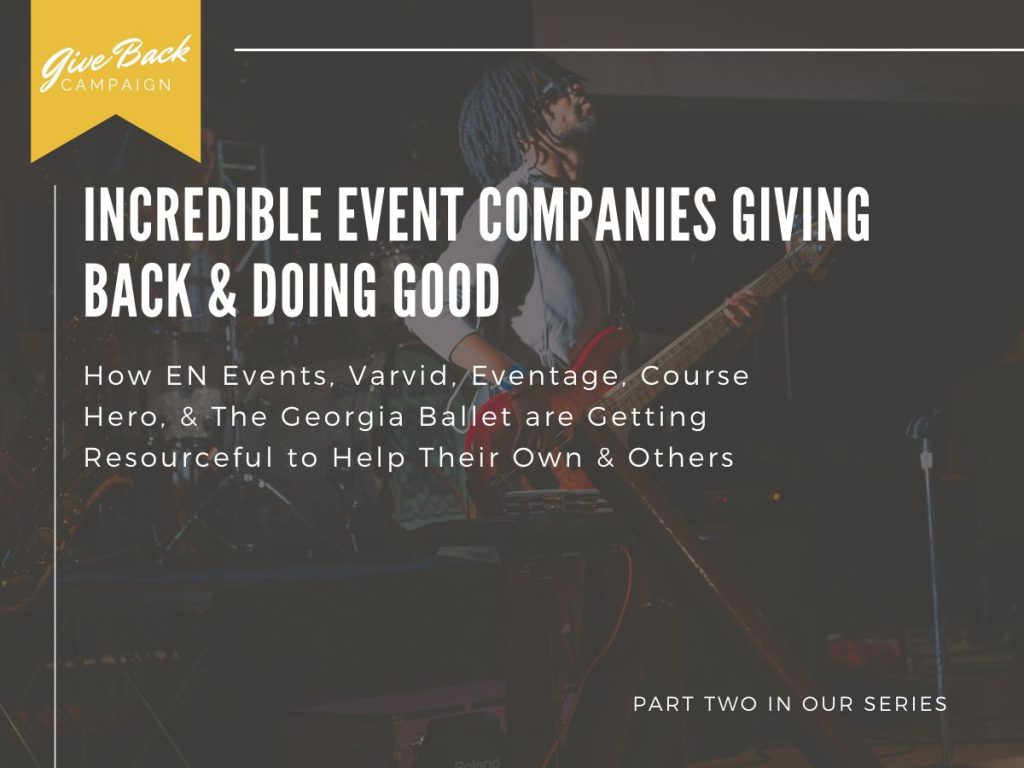 How EN Events, Varvid, Eventage, Course Hero, & The Georgia Ballet are Getting Resourceful to Help Their Own & Others
Making care packages for families in need. Lending equipment to local musicians and providing streaming capabilities. Hosting a virtual talent show to raise money for freelance event staff. Helping educators adjust and donating to important causes. Making and donating masks to local healthcare workers. These are the ways they're giving back.
How 3 Event & Entertainment Industry Leaders are Helping During the COVID Pandemic
A free COVID testing site. A drive-thru food bank for those that were laid off or had their hours reduced in the event and entertainment industry. Temporary hospital set ups and plastic face shield fabrication. These are the ways they're giving back.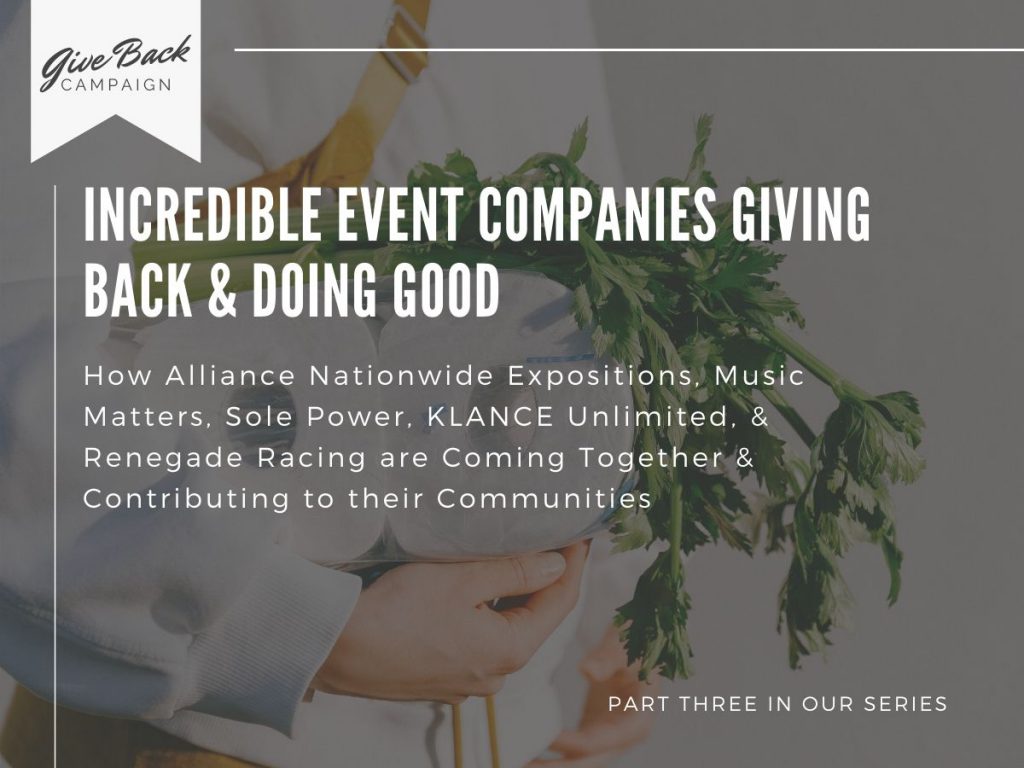 How Alliance Nationwide Expositions, Music Matters, Sole Power, KLANCE Unlimited, & Renegade Racing are Coming Together & Contributing to Their Communities
An industry event designed to provide a forum on how live events can safely move forward and get back to business. 3D printing PPE for nearby hospitals. Keeping freelancer and employee morale up by ensuring they always have a paycheck…and food on the table. Socially distanced graduations. Utilizing already purchased supplies to donate to families and the elderly. These are the ways they're giving back.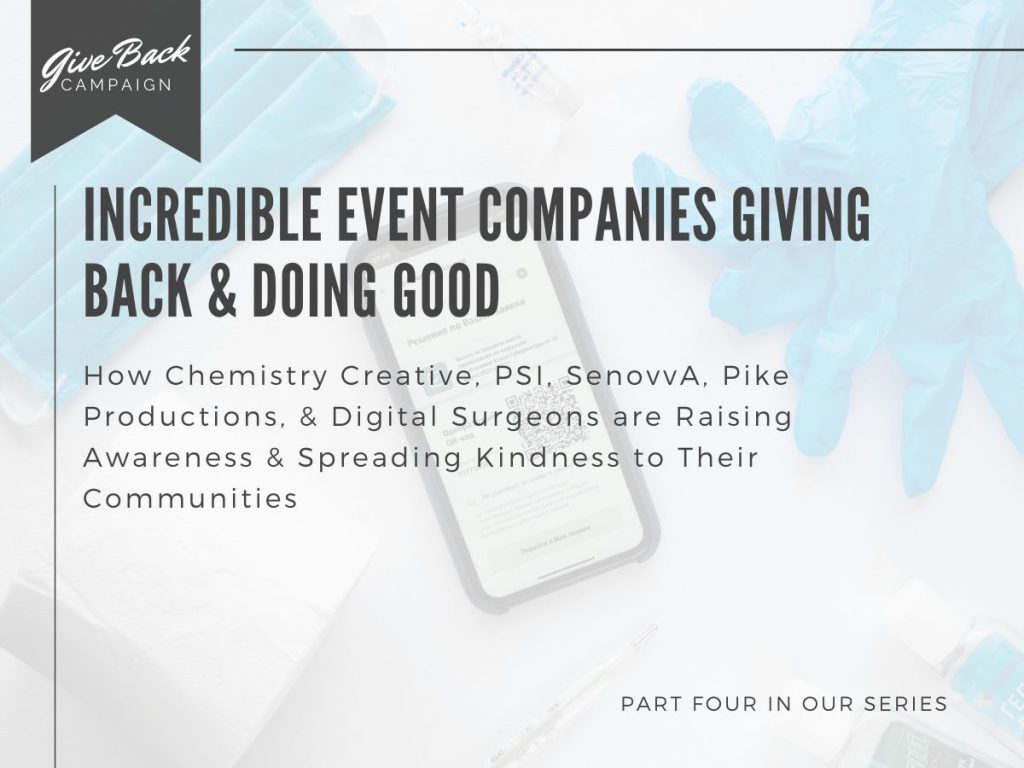 How Chemistry Creative, PSI, SenovvA, Pike Productions, & Digital Surgeons are Raising Awareness & Spreading Kindness to Their Communities
Raising awareness to the dilemma of worldwide mass incarceration, which is further highlighted in conjunction with Coronavirus outbreaks in facilities. Celebrating frontline workers with the 'Light of Hope'. A PPE donation campaign and food drops to long term care residents. DJ live streams to entertain their communities. Contactless temperature check kiosks for when live events start up again. Uniting donors with programs to help make an immediate impact. These are the ways they're giving back.
How CLEMCO.AV, Gallagher Staging, Stage Ops, & Reel Impact are Making the World a Little Brighter
Creating resources to help freelancers plan for their future. Building relief structures and providing a safe event experience. Supporting the social justice movements sweeping the nation. Making masks and delivering meals to the hungry. These are the ways they're giving back.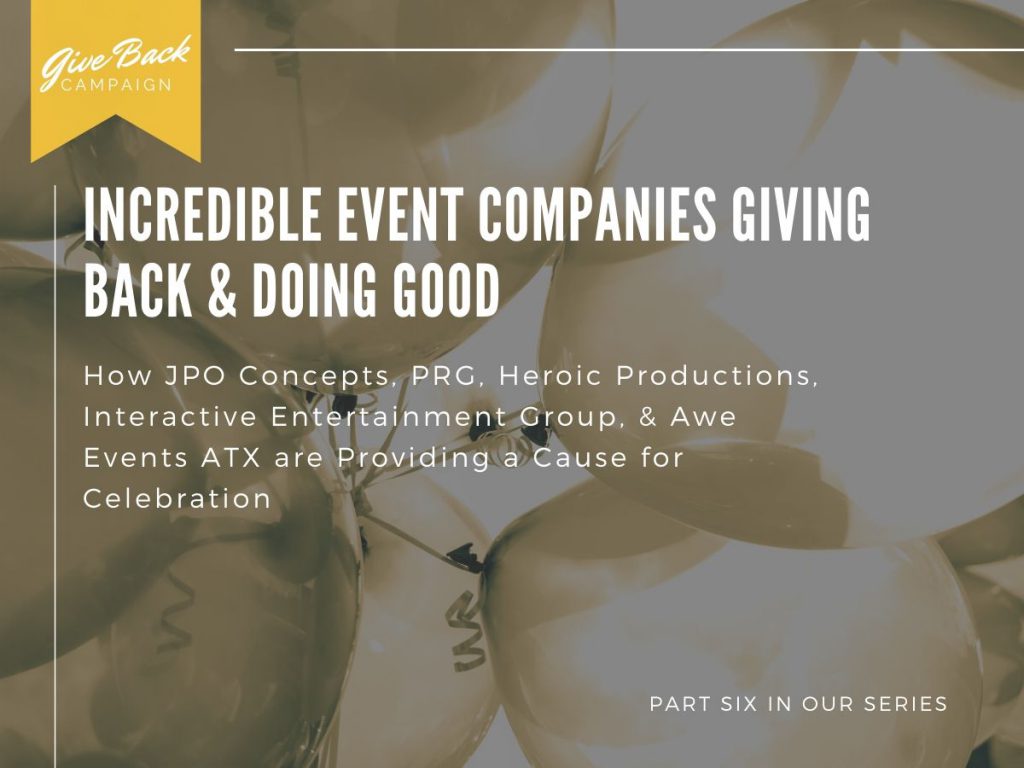 How JPO Concepts, PRG, Heroic Productions, Interactive Entertainment Group, & Awe Events ATX are Providing a Cause for Celebration
Serving over 12,000 meals to frontline healthcare workers, vulnerable members of the community, and essential service providers. Fabricating supplies for health workers on the frontlines. Helping friends in keynote speaking and entertainment. Virtual team building through interactive games. Helping people get together with socially safe celebrations. These are the ways they're giving back.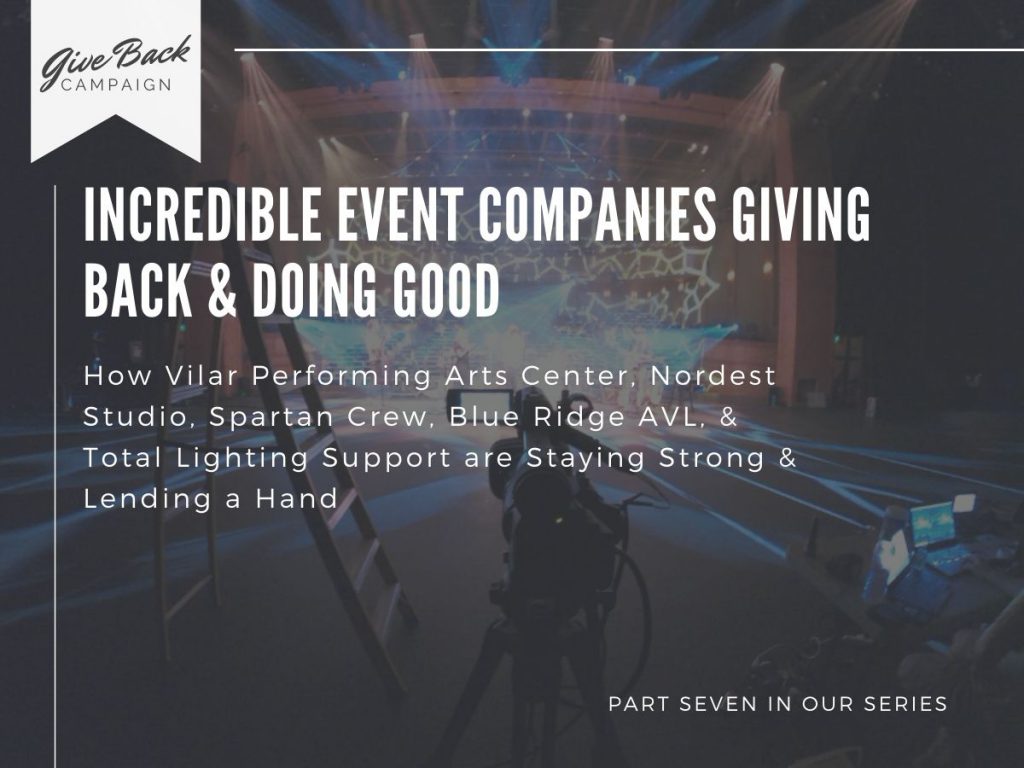 How Vilar Performing Arts Center, Nordest Studio, Spartan Crew, Blue Ridge AVL, & Total Lighting Support are Staying Strong & Lending a Hand
Paying crew members in spite of losing the majority of revenue and concerts for a virtual crowd. Offering guidance at no cost and connecting people together to support each other's businesses. Crew volunteering at local hospitals. Shifting gears to make it through tough times. Supporting artists while entertaining their community safely. These are the ways they're giving back.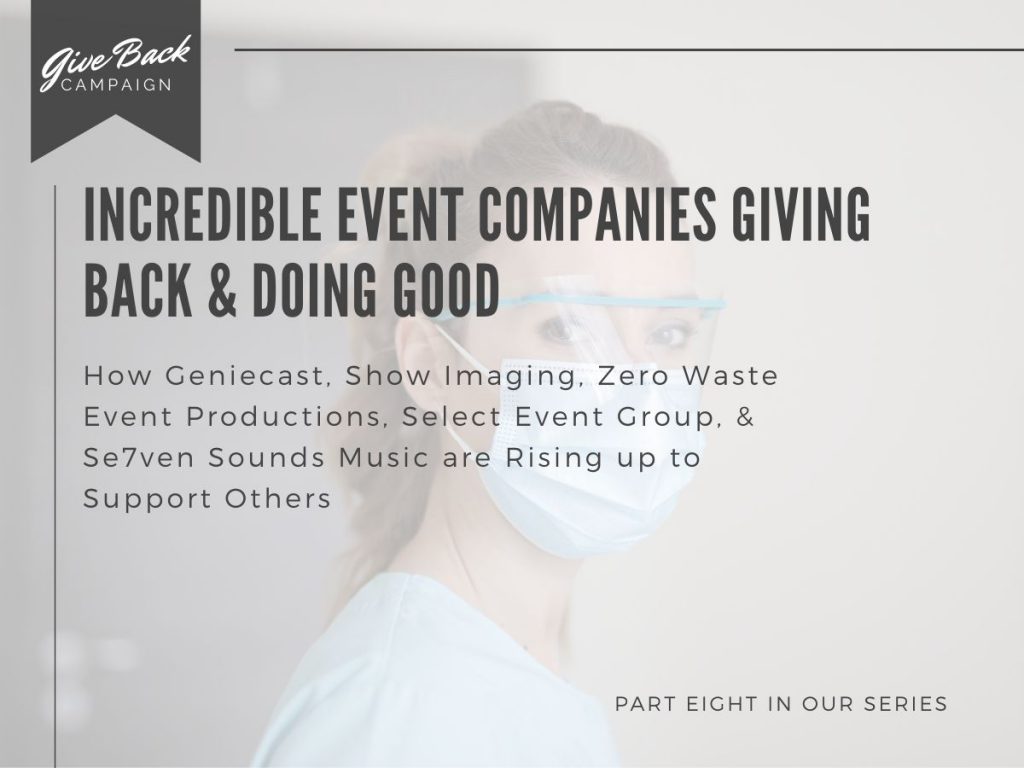 How Geniecast, Show Imaging, Zero Waste Event Productions, Select Event Group, & Se7ven Sounds Music are Rising up to Support Others
Rising up and raising money for doctors, nurses, and families in need. Raising money for hunger relief organizations. Producing face shields with recycled plastics while remaining focused on a core mission of waste diversion. Lending a hand to build pop-up medical facilities while keeping staff employed. Feeding production crews and showcasing their artistic talents. These are the ways they're giving back.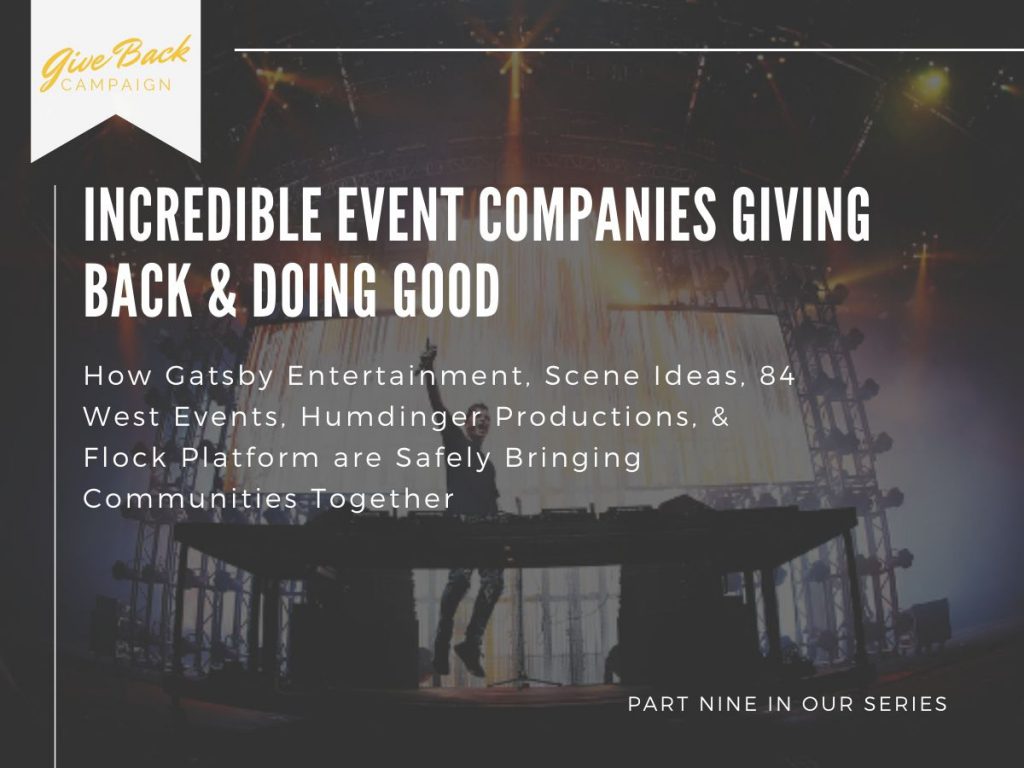 How Gatsby Entertainment, Scene Ideas, 84 West Events, Humdinger Productions, & Flock Platform are Safely Bringing Communities Together
Creating industry jobs for creatives and donating profits to industry friends. Pivoting company focus to create a full line of safety products from plexiglass barriers to PPE – and on top of that, fundraising for a local children's charity. Providing virtual graduations for students. Creating new partnerships while coaching the community on how to safely hold events and open businesses. Sponsoring pro-bono events in order to keep events alive. These are the ways they're giving back.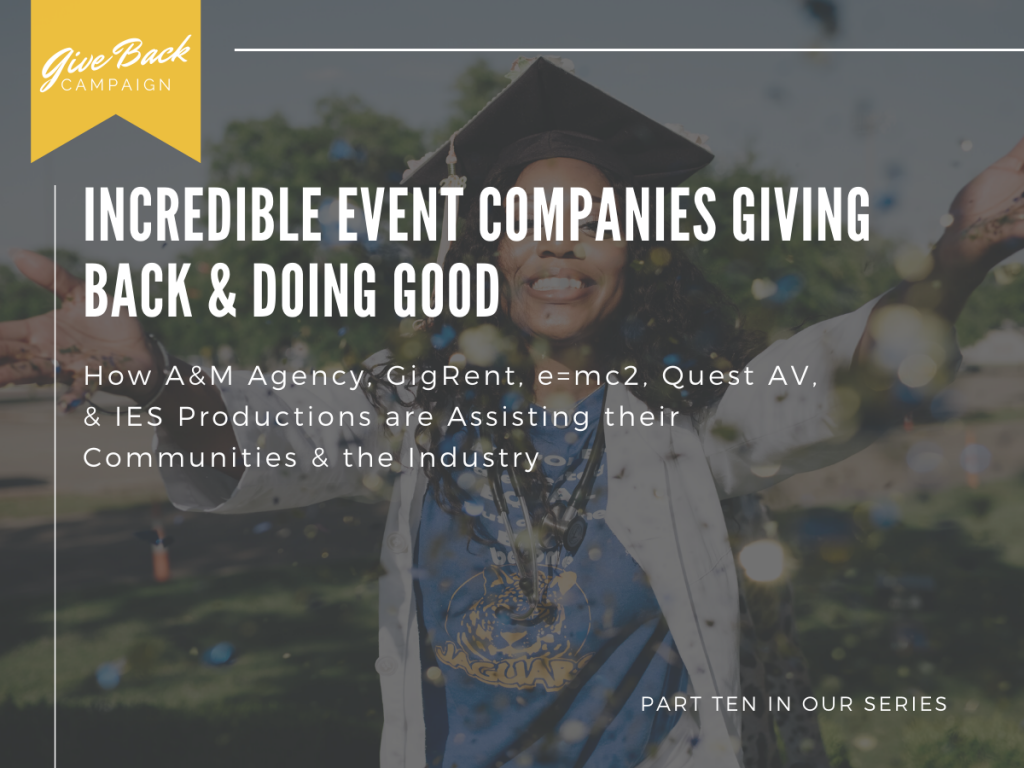 How A&M Agency, GigRent, e=mc2, Quest AV, & IES Productions are Assisting their Communities & the Industry
Organizing an event alliance to serve as a platform for advancing the industry in a more transparent, supportive, and diverse direction. Began a sister company that's solely focusing on event disinfection. Providing drive thru graduation experiences that are fully compliant with all local and national safety measures. Offering complimentary services of their drivers and vans to assist the elderly & vulnerable members of their community, as well as providing complimentary equipment for community activism events. Creating an alliance aimed at helping companies & organizations safely navigate to the other side of their unique crisis. These are the ways they're giving back.
If you'd like to be featured in an upcoming article, then let us know how you've been giving back to your community.
---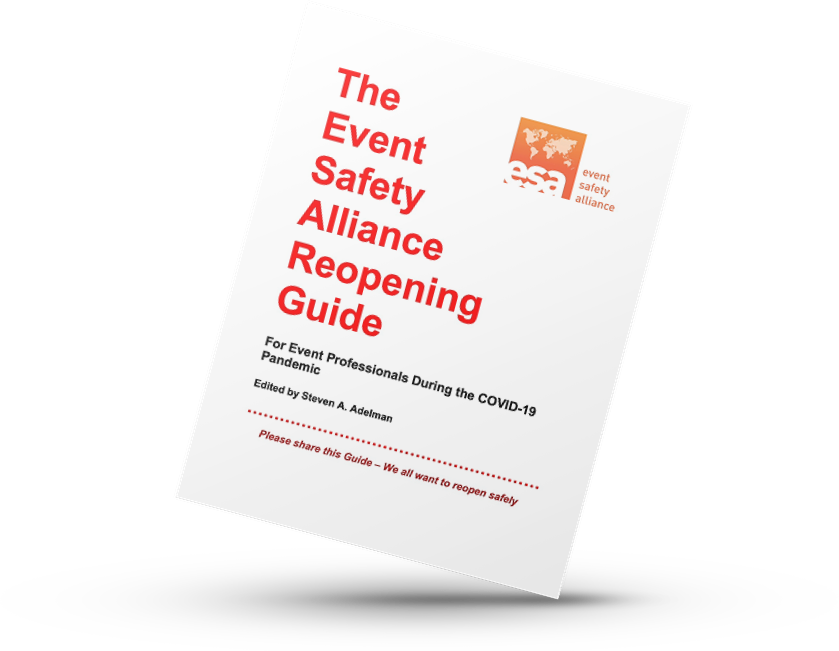 The Event Safety Alliance Reopening Guide
With states slowly reopening and easing guidelines on group gatherings, there is a need for guidance on how small events and venues can reopen as safely as possible during the COVID-19 pandemic.
In response, LASSO, the Event Safety Alliance, and other live event industry professionals collaborated to put together this comprehensive guide.